Congratulations! You're signed up for the 2020 Get Out Of The City Summit 7-Day Experience with access to all the 25+ expert interviews.

You'll get deep experiences and knowledge on how to keep your life and spirit nourished by Simply Living & High Thinking.

Your personal access instructions will be emailed to you within the next few minutes.
UPGRADE TO THE ESCAPE PACKAGE
Experiencing the Summit for these seven days is completely free. 
And if you want to gain the most from it, then get: 
Workbook 

Transcripts

Behind the scenes

Lifetime access to the recordings
and $3,000+ worth of Bonuses…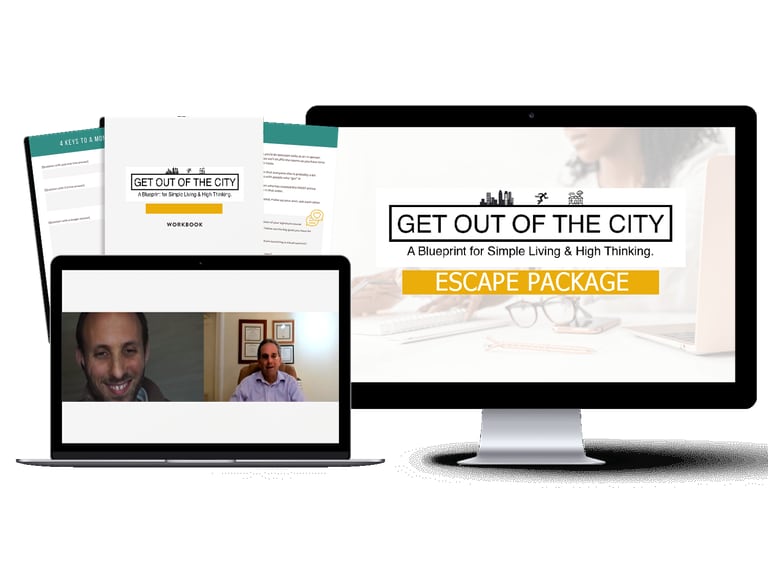 ESCAPE PACKAGE
life time access
€247
€
147
one time payment
Ongoing access to all 26 presentations & Live recordings

100+ page workbook with presentation notes, take aways, and worksheets for each presentation

Complete transcripts for each presentation

Exclusive Behind-the-scenes and trailer, encouraging YOUR Simple Life

Ask Me Anything-Panel replays from our speakers, answering the questions you're asking
(or may not have thought to ask!)
THE TRUTH IS…


In these times it's more important than ever to get informed,
so you can take care of your life and the life of those you love.


Now is the time to put the healing power of Simple Living to work for you, so you can be truly and deeply nourished, and have the resiliency
to meet whatever challenges come your way.


Are you ready to enjoy more freedom, time with your family, and calmness?


By signing up for the Summit, you've taken a stand and joined the School of Simple Living! In this time of social distancing, you'll get to come together with like-minded approaching students of Simple Living & High Thinking!


And for the next seven days, you can hear from 25+ amazing speakers,
all intimitately interviewed by one who is walking the path himself.